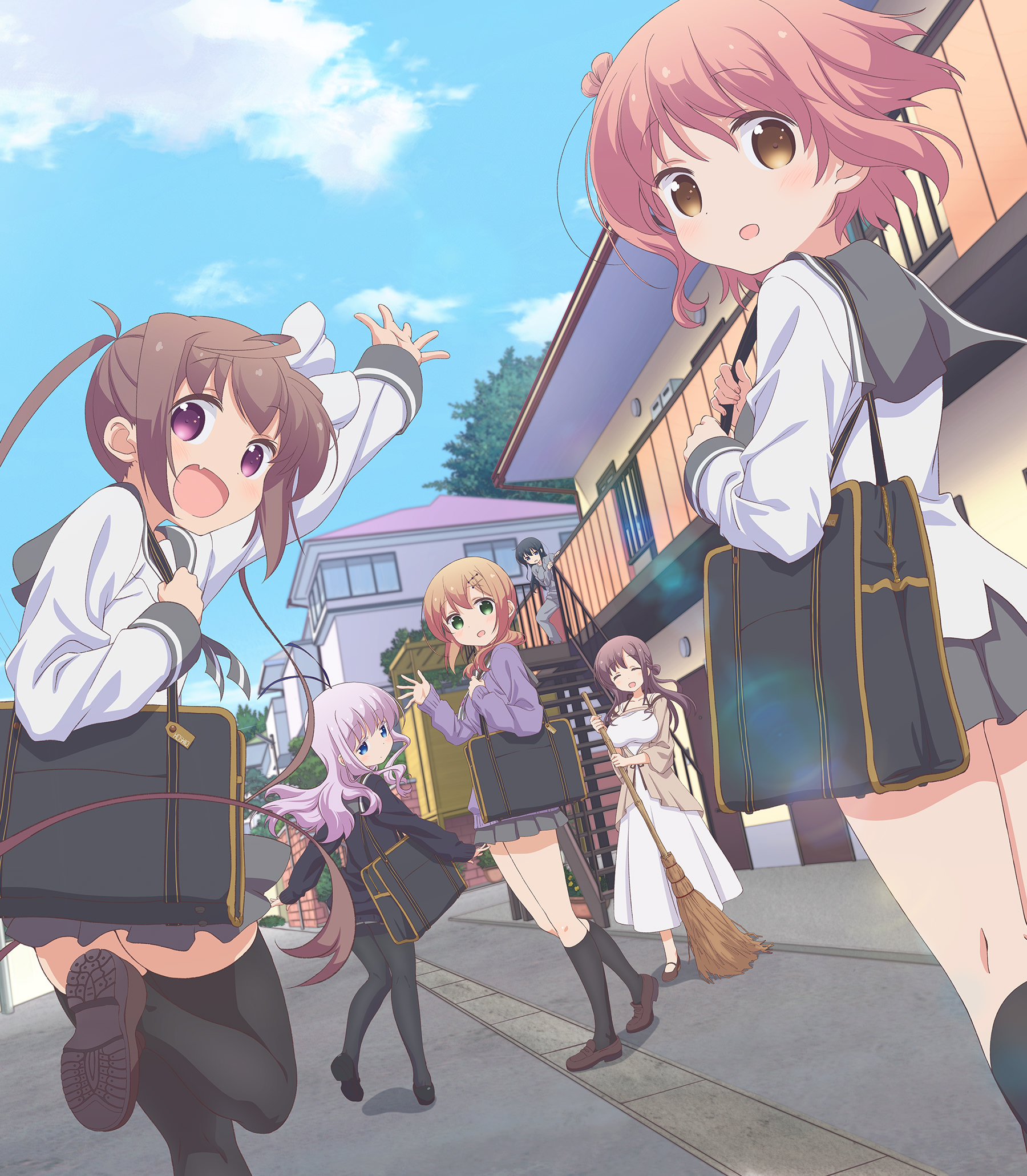 Story STEP.O1The First Butterflies
Since graduating from middle school, Hana Ichinose has been living on her own and away from her parents in an apartment complex managed by her cousin. This spring, she will finally be making her long-awaited high school debut; however, the thought of not knowing anyone at a brand new school fills her with much anxiety.
After nervously making it through the entrance ceremony on her first day of school, Hana looks around and realizes that most of the students have already formed friend groups and cliques. Being first on roll call, Hana is required to be the first one to introduce herself to the class… Will the painfully shy Hana survive the first day of school and make new friends??
STEP.O2Exercise Wears Me Out
Cheerful Tamate Momochi, who does everything at her own pace. Mature Eiko Tokura, with excellent communication skills. Kamuri Sengoku, who is small but has a voracious appetite. Hana has become close with these three classmates by chance, also becoming her group of friends to eat lunch with. As much as she enjoys her time with them, comparing lunches and sharing food with each other, she continues to keep her past a secret. Meanwhile, the physical fitness test is coming up at school. But Hana, has not been active at all during her gap year after graduating middle school...
STEP.O3Tracks of My Tears
The four are talking about their Golden Week vacation plans. They soon find out that they are all free on the last day of the break, so the girls plan a study session at Hana's at Temari Heights for the upcoming proficiency tests. Hana cannot contain her excitement over inviting her friends over to her place. And Shion, Hana's cousin, is just as thrilled when she hears the plan. Each of them separately enjoy their Golden Week vacation to their hearts' content, until it is finally the day of the study session.
STEP.O4Premium Tournament on the 2nd Floor
Hiroe Hannen is the mysterious resident of Temari Heights apartment 202. When Hana goes up to deliver a package for her, paranoid Hiroe mistakes Hana as a suspicious intruder. Her misunderstanding is straightened out with Shion's introduction, but it soon becomes clear that Hiroe is a shut-in, who cannot step out even to the convenience store.
Her high school years were smooth sailing until an accident that became a turning point in her life. Hearing Hiroe's personal story resonates with Hana, who then shares her secret of being a year behind in high school.
STEP.O5Kamuri's Fluffy
Kamuri, who is very much attached to Eiko, is thrilled when she gets a photo of her from back in middle school. However, the girl in the photo looks different from the Eiko that Kamuri met in passing last year. When asked, Eiko confirms that she is the one in the photo. While Kamuri is unsatisfied with the lingering mystery, Hana also recalls passing by a girl who looked a lot like Eiko in the shopping district. The two are intrigued by the possibility of a lookalike, and set off in search of Eiko's secret.
STEP.O6Slimy Eel
Tonight is the sleepover at Temari Heights. Despite their initial plan to have a study session for the upcoming exams, Tamate has been giving it her all to prepare a delicious meal for everyone. Arriving at Temari Heights before anyone else, she welcomes the rest of the group to the apartment along with Hana. The sleepover continues and time passes by quickly, as they play games, pamper each other, all while studying hard. The final thing on their list is of course, ghost stories! Will scaredy-cat Hana survive the night?
STEP.O7Cuffed Wrists
Eiko receives birthday gifts from all of her classmates. As they all turn out to be hairclips, Eiko's hair is soon filled with pins that her homeroom teacher Kiyose Enami decides to nickname her, "Pinko Tokura." There is usually one sophisticated hairpin in Eiko's hair and it becomes the topic of discussion for the girls on their walk home after school. Tamate is very much curious as to where she purchased the pin. But Eiko seems to be keeping a secret with an enigmatic smile.
STEP.O8Hana's Friends
Sleeping through her alarm, Hana forgets about her early morning cleaning duty at school. When she dashes to school in a panic, her classmate Nanae, has already done the chores in her place. Hana tries to convey her gratitude, but is so nervous that the words come out as gobbledygook. Hana hasn't exchanged words with over half the students in her class! So, Eiko, Kamuri, and Tama begin a mission to introduce all of the classmates to Hana. Will Hana be able to conquer her shyness? And will she be able to initiate a conversation with her cleaning duty partner, Nanae!?
STEP.O9Gorilla in a Swimsuit
Hana and friends had been planning a beach day, but their plan is rained out. Hana's tears will not stop, as she had been looking forward to this day, despite her nervousness toward wearing a bikini. To lift their spirits, they decide to hold a swimwear fashion show at Temari Heights! They pretend that the futons are a sea of waves and work on their homework in swimsuits…Next thing they realize, Hiroe and Shion have also joined, and their mood picks up. The group then takes off for an indoor heated swimming pool nearby. They're all in their swimsuits already, so why not!?
STEP.1OShark's Cousin
Hana receives a handmade brooch from Eiko, who wants to keep her jewelry crafting a secret. She is thrilled that Eiko is opening up to her but she feels guilty that she hides her secret of being a year behind from her friends. She consults Kiyose, but they do not come to a decision.

As she heads to class unsure of what to do, Eiko lets out a shocking remark. "I heard you're a year behind…"
STEP.11Tomato Festival
It's finally summer vacation and it's summer festival season! Before the festival, they first drop by Tamate's house to greet her family. As they walk around Tamate's neighborhood, they have the chance to try out fresh, mouthwatering tomatoes directly from the nearby farms. Lunch is on Tamate, as she serves Italian, and Kamuri cannot help but ask for seconds and thirds of the restaurant quality meal. Later, they help each other dress in kimonos and are finally off to the summer festival!
STEP.12The Slow Start
It will be Hana's first time shopping for herself, as her mother had always bought clothes for her. She has no idea what will suit her best and when she asks her friend, Eiko invites her to go shopping the following day. Tamate is excited to pick out clothes for Hana, while Kamuri is solely interested in eating a parfait afterward. Hana continues to ponder at home, "What is my fashion style?" What will we see in Hana's fashion haul…?
Staff & Cast
Staff
Original Story

Yuiko
TokumiManga Time Kirara (Houbunsha)

Director

Hiroyuki
HashimotoIs the Order a Rabbit?

Series Composition

Mio InoueIs the Order a Rabbit?

Character Design/
Chief Animation Director

Masato AnnoFlying Witch


Prop Design

Masako Itou


Main Animator

Kosuke Yoshida


Art Director

Katsufumi Hariu


Color Setting

Kanako Hokari


CG Director

Shinji Nasu


Director of Photography

Satoru Kuroiwa


Editor

Ayumu Takahashi


Sound Director

Jin Aketagawa


Sound Effects

Toshiya Wada

Music

Yoshiaki Fujisawa


Music Production

Aniplex

Animation Production

A-1 PicturesThe iDOLM@STER franchise, anohana
Cast
Hana Ichinose

Reina Kondo

Tamate Momochi

Ayasa Ito

Eiko Tokura

Tomomi Mineuchi

Kamuri Sengoku

Maria Naganawa

Shion Kyozuka

M・A・O

Hiroe Hannen

Maaya Uchida

Kiyose Enami

Manami Numakura
Streaming