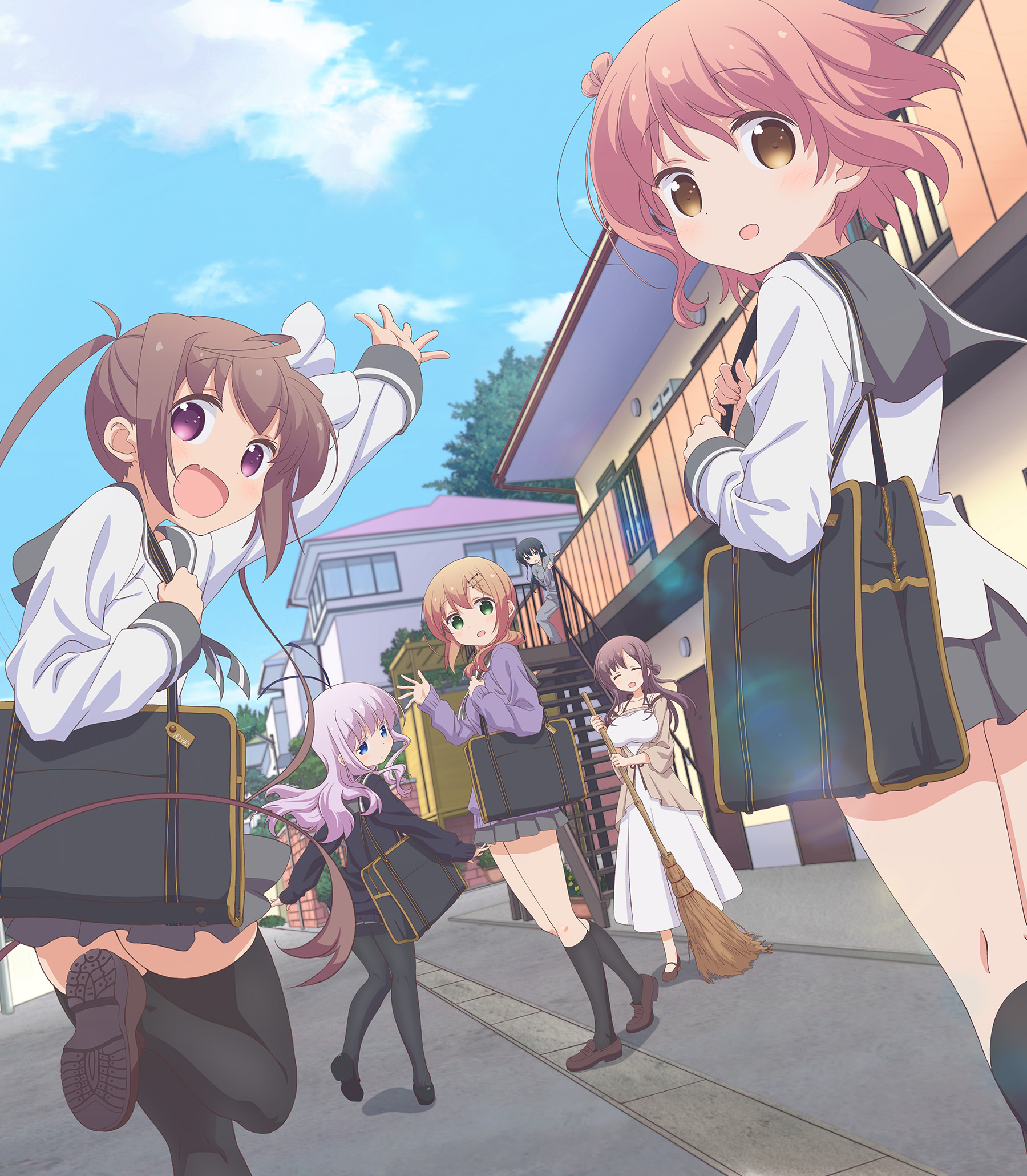 Story STEP.O1The First Butterflies
Since graduating from middle school, Hana Ichinose has been living on her own and away from her parents in an apartment complex managed by her cousin. This spring, she will finally be making her long-awaited high school debut; however, the thought of not knowing anyone at a brand new school fills her with much anxiety.
After nervously making it through the entrance ceremony on her first day of school, Hana looks around and realizes that most of the students have already formed friend groups and cliques. Being first on roll call, Hana is required to be the first one to introduce herself to the class… Will the painfully shy Hana survive the first day of school and make new friends??
STEP.O2Exercise Wears Me Out
Cheerful Tamate Momochi, who does everything at her own pace. Mature Eiko Tokura, with excellent communication skills. Kamuri Sengoku, who is small but has a voracious appetite. Hana has become close with these three classmates by chance, also becoming her group of friends to eat lunch with. As much as she enjoys her time with them, comparing lunches and sharing food with each other, she continues to keep her past a secret. Meanwhile, the physical fitness test is coming up at school. But Hana, has not been active at all during her gap year after graduating middle school...
STEP.03Tracks of My Tears
The four are talking about their Golden Week vacation plans. They soon find out that they are all free on the last day of the break, so the girls plan a study session at Hana's at Temari Heights for the upcoming proficiency tests. Hana cannot contain her excitement over inviting her friends over to her place. And Shion, Hana's cousin, is just as thrilled when she hears the plan. Each of them separately enjoy their Golden Week vacation to their hearts' content, until it is finally the day of the study session.
Staff & Cast
Staff
Original Story

Yuiko
TokumiManga Time Kirara (Houbunsha)

Director

Hiroyuki
HashimotoIs the Order a Rabbit?

Series Composition

Mio InoueIs the Order a Rabbit?

Character Design/
Chief Animation Director

Masato AnnoFlying Witch


Prop Design

Masako Itou


Main Animator

Kosuke Yoshida


Art Director

Katsufumi Hariu


Color Setting

Kanako Hokari


CG Director

Shinji Nasu


Director of Photography

Satoru Kuroiwa


Editor

Ayumu Takahashi


Sound Director

Jin Aketagawa


Sound Effects

Toshiya Wada

Music

Yoshiaki Fujisawa


Music Production

Aniplex

Animation Production

A-1 PicturesThe iDOLM@STER franchise, anohana
Cast
Hana Ichinose

Reina Kondo

Tamate Momochi

Ayasa Ito

Eiko Tokura

Tomomi Mineuchi

Kamuri Sengoku

Maria Naganawa

Shion Kyozuka

M・A・O

Hiroe Hannen

Maaya Uchida

Kiyose Enami

Manami Numakura
Streaming